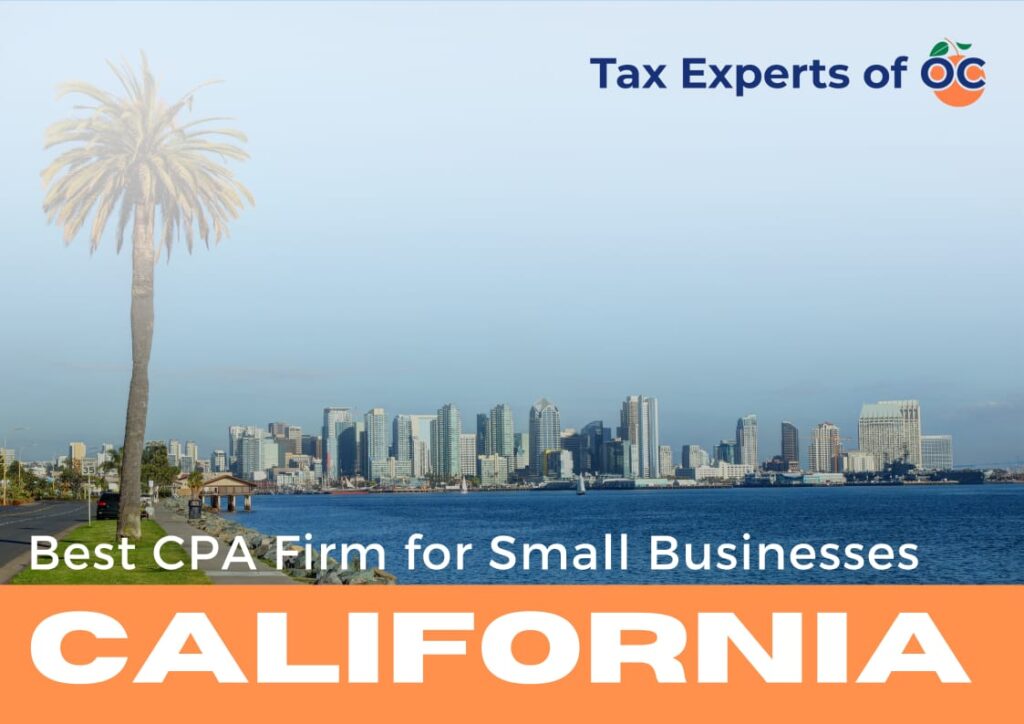 If you're a small business owner in California, you understand the importance of finding a reliable and experienced CPA firm to manage your financial needs. Look no further, as TaxExpertsOfOC.com a premier full-service best CPA firm near you dedicated to helping small businesses thrive.
With a unique team comprising a former IRS Revenue Officer, certified CPAs, and Enrolled Agents, TaxExpertsOfOC.com offers a wide array of services tailored to meet your financial requirements.
Meet Our Expert Team
1, Former IRS Revenue Officer:
Having an insider's perspective on IRS operations is invaluable. Our team member who served as an IRS Revenue Officer possesses deep insights into IRS processes and can help you navigate complex tax issues effectively.
2, Certified Public Accountants (CPAs):
Our CPAs are highly skilled and knowledgeable professionals who can provide expert tax preparation, planning, and accounting services to ensure your business stays on track financially.
3, Enrolled Agents (EAs):
Enrolled Agents are tax experts authorized by the U.S. Department of the Treasury to represent taxpayers before the IRS. They are well-equipped to handle IRS tax problems and provide sound advice.
Comprehensive Services
At TaxExpertsOfOC.com, we offer a comprehensive suite of services to meet all your financial needs:
1. Tax Preparation: 
Our expert team ensures your taxes are prepared accurately and filed on time, minimizing your tax liability.
2. Tax Planning: 
We devise effective tax strategies to optimize your financial position, helping you save money in the long run.
3. Accounting & Bookkeeping Services: 
Keep your financial records in order with our accounting and bookkeeping services, so you can focus on growing your business.
4. Payroll Service: 
Simplify your payroll process and ensure compliance with our payroll services.
5. Outsourced CFO & Controllership: 
Benefit from professional financial management and strategic guidance without the cost of hiring a full-time CFO.
6. IRS Tax Problem & Resolution: 
We specialize in resolving IRS tax problems, ensuring your peace of mind.
7. Business Incorporation: 
If you're starting a new venture, we can guide you through the business incorporation process, helping you make the right choices for your business structure.
8. Employment Retention Tax Credit (ERTC): 
We can help you navigate the intricacies of the ERTC, ensuring you take full advantage of available credits.
The Top Choice for Californians
For Californians seeking the best CPA firm, TaxExpertsOfOC.com is the top choice. We understand the unique financial challenges faced by businesses in California and tailor our services to meet your specific needs.
FAQs
Q1: Why should I choose TaxExpertsOfOC.com over other CPA firms in California?
A: TaxExpertsOfOC.com sets itself apart with a team that includes a former IRS Revenue Officer, CPAs, and Enrolled Agents. Our comprehensive range of services, deep expertise, and commitment to client success make us the premier choice for small businesses in California.
Q2: Can you help with IRS tax problems, even if they are complex?
A: Absolutely! Our team specializes in IRS tax problem resolution and has successfully helped numerous clients navigate complex tax issues.
Q3: How can TaxExpertsOfOC.com assist with tax planning?
A: We create customized tax strategies to minimize your tax liability while ensuring compliance with tax laws, helping you save money and achieve your financial goals.
Q4: Do you offer free consultations?
A: Yes, we offer free initial consultations to discuss your specific needs and how our services can benefit your business.
Q5: What industries do you serve?
A: We work with businesses across various industries in California, providing tailored financial solutions to meet their unique requirements.
Don't waste any more time searching for the right CPA firm in California near you. TaxExpertsOfOC.com is your trusted partner for all your financial needs. 
Contact us today @ (714) 823-9281 to schedule your 30-minute free initial consultation appointment today and discover how we can help your business thrive.