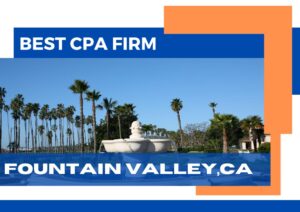 When it comes to managing your finances and ensuring compliance with tax laws, you need a reliable partner by your side. In Fountain Valley, CA, TaxExpertsofOC.com stands out as the go-to CPA firm for all your financial needs.
With a team of experienced professionals and a wide spectrum of services, we are committed to supporting you achieve financial success. Here's why we are the best CPA firm in Fountain Valley:
Quality Services Offered:
Tax Preparation:
Our experts ensure that your tax returns are accurate, timely, and optimized for maximum savings.
Tax Planning:
We create customized tax strategies to minimize your tax liability and plan for your financial future.
Accounting & Bookkeeping Services:
We offer top-notch accounting and bookkeeping services to keep your financial records in perfect order.
Payroll Service:
Streamline your payroll processes, ensuring accuracy and compliance.
Outsourced CFO & Controllership:
Access high-level financial expertise without the cost of hiring a full-time CFO.
IRS Tax Problem & Resolution:
Our team includes former IRS Revenue Officers who can help you navigate and resolve tax issues with the IRS.
Business Incorporation:
We assist with the formation of businesses, helping you choose the right entity for your needs.
Employment Retention Tax Credit (ERTC):
Our ERTC specialists can help you claim tax credits that benefit your business.
Meet Our Reputable Team Members:
CPAs: Our Certified Public Accountants are experts in tax and finance.
Former IRS Revenue Officer: With insider knowledge of IRS procedures, we can tackle your tax problems effectively.
Enrolled Agents: Our Enrolled Agents are federally authorized tax practitioners who can represent you before the IRS.
ERTC Specialists: Our specialists are well-versed in maximizing your ERTC benefits.
FAQs:
Q1: Why should I choose TaxExpertsofOC.com as my CPA firm?
A: We have a proven track record of delivering top-notch financial services, a highly skilled team, and a commitment to your financial success.
Q2: Are your services tailored to individuals as well as businesses?
A: Yes, we provide services for both individuals and businesses, ensuring that everyone's financial needs are met.
Q3: How can I schedule a consultation?
A: Contact us today to schedule your 30-minute free consultation appointment. We'll discuss your financial goals and how we can help you achieve them.
Contact Information:
Don't wait to secure your financial future. Contact the best CPA firm in Fountain Valley, CA – TaxExpertsofOC.com – today, and take the first step toward financial success!

A Premier Full-Service Best CPA Firm