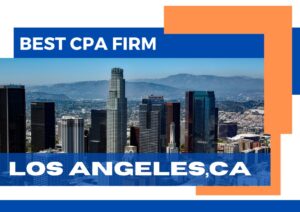 When it comes to finding the best CPA firm in Los Angeles, California, look no further than TaxExpertsOfOC.com. Our team of highly experienced professionals is dedicated to providing top-notch financial and tax services to people and businesses in the Los Angeles area.
Here's why we are the preferred choice for all your financial needs:
Quality Services Offered
Tax Preparation:
Our experienced CPAs and Enrolled Agents ensure accurate and timely tax return filing, maximizing your deductions and minimizing your tax liability.
Tax Planning:
We create comprehensive tax strategies tailored to your financial goals, helping you optimize your tax situation throughout the year.
Accounting & Bookkeeping Services:
Our expert accountants keep your financial records organized, ensuring compliance and providing valuable insights for informed decision-making.
Payroll Service:
Trust our payroll specialists to manage your payroll processing efficiently, ensuring your employees are paid accurately and on time.
Outsourced CFO & Controllership:
Access professional financial guidance without the overhead costs of hiring a full-time CFO. We offer expertise in financial management and strategic planning.
IRS Tax Problem & Resolution:
Our team includes a former IRS Revenue Officer, who can assist with tax problems, audits, and negotiations with the IRS.
Business Incorporation:
Start your business journey on the right foot with our assistance in entity selection and incorporation services.
Employment Retention Tax Credit (ERTC):
We specialize in ERTC, helping businesses claim valuable tax credits to retain and incentivize their employees.


Our Reputable Team Members
CPAs:


Our team of certified public accountants brings a wealth of knowledge and experience to your financial needs.
Former IRS Revenue Officer:
Gain an advantage with insider knowledge on IRS procedures and problem resolution.
Enrolled Agents:
Our Enrolled Agents are federally authorized tax practitioners with expertise in tax laws and regulations.
ERTC Specialists:
We have dedicated specialists who excel in securing Employment Retention Tax Credits for our clients.


FAQs
What sets TaxExpertsOfOC.com apart from other CPA firms in Los Angeles?
We offer a unique blend of expertise, including a former IRS Revenue Officer on our team and specialized ERTC services.
How can I schedule a consultation?
Contact us today to schedule your 30-minute free consultation appointment. Call (714) 823-9281 or email us at [email protected].
Do you provide services for individuals as well as businesses?
Yes, we offer a broad range of services for both individuals and businesses.
What are the benefits of tax planning?
Tax planning can help you reduce your tax liability, increase your savings, and achieve your financial goals efficiently.
Contact Us Today:
Don't hesitate to reach out to us for all your financial and tax needs. Contact TaxExpertsOfOC.com today to schedule your 30-minute free consultation appointment.
Let us help you navigate your financial journey with confidence and expertise. We are the best CPA firm in Los Angeles, CA, and we look forward to serving you.

A Premier Full-Service Best CPA Firm