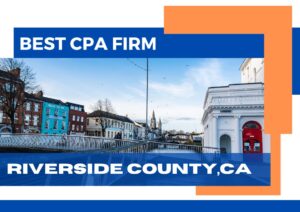 Are you searching for the top-notch CPA firm in Riverside County, California? Your search ends here! TaxExpertsofOC.com proudly stands as the best CPA firm in Riverside County, offering a wide spectrum of high-quality services to meet your financial needs.
With a team of experienced professionals, we are committed to providing exceptional assistance and expertise in all aspects of taxation and accounting. Here's why TaxExpertsofOC.com is your go-to choice:
Quality Services We Offer
Tax Preparation:
Our expert team ensures your taxes are prepared accurately, maximizing your refunds while minimizing liabilities.
Tax Planning:
We develop personalized tax strategies to support you save money and achieve your financial goals.
Accounting & Bookkeeping Services:
Trust us to maintain precise and organized financial records, keeping your business on the right track.
Payroll Service:
We handle payroll processing efficiently, ensuring compliance with tax regulations and relieving you of the administrative burden.
Outsourced CFO & Controllership:
Benefit from our financial expertise to make informed decisions and grow your business strategically.
IRS Tax Problem & Resolution:
Our team includes former IRS Revenue Officers and Enrolled Agents who specialize in resolving tax issues, including audits and collections.
Business Incorporation:
We guide you through the process of business formation, helping you choose the right structure for your needs.
Employment Retention Tax Credit (ERTC):
Our ERTC specialists can help you maximize this tax credit, providing substantial savings for your business.
Our Reputable Team Members

At TaxExpertsofOC.com, our team comprises highly skilled professionals, including:
CPAs: Certified Public Accountants with a wealth of knowledge and experience.
Former IRS Revenue Officer: An insider's perspective on IRS matters.
Enrolled Agents: Licensed to convey taxpayers before the IRS.
ERTC Specialists: Experts in Employment Retention Tax Credits.


(FAQs)
Q: Why should I choose TaxExpertsofOC.com over other CPA firms in Riverside County?
A: TaxExpertsofOC.com stands out for its unbeatable combination of experience, expertise, and personalized service. We prioritize your financial well-being and provide tailored solutions to help you achieve your goals, whether it's maximizing tax savings or resolving IRS issues.
Q: Are your services limited to businesses, or do you cater to individuals as well?
A: We proudly serve both individuals and businesses in Riverside County. Whether you're an individual looking for tax advice or a business seeking comprehensive financial solutions, we have the expertise to meet your needs.
Q: What sets your ERTC specialists apart from others?
A: Our ERTC specialists are not only well-versed in the tax code but also stay up-to-date with the latest changes and guidelines. They work tirelessly to ensure you receive the maximum Employment Retention Tax Credit, potentially saving your business thousands of dollars.
Q: How do you keep up with the ever-changing tax laws and regulations?
A: Our team at TaxExpertsofOC.com is committed to constant learning and professional development. We closely monitor tax law changes, attend training sessions, and collaborate with industry experts to stay ahead of the curve, ensuring that our clients benefit from the latest strategies and compliance updates.
Q: Can you help with long-term financial planning and retirement strategies?
A: Absolutely! Our services go beyond tax preparation and planning. We offer comprehensive financial planning and retirement strategies to secure your financial future, helping you retire comfortably and achieve your long-term goals.
Q: Do you provide year-round support, or are your services limited to tax season?
A: TaxExpertsofOC.com is here for you year-round. We understand that financial decisions and challenges don't adhere to a strict schedule. Our team is available to assist you whenever you need us, ensuring you have peace of mind throughout the year.
Q: Is the initial consultation really free, and what can I expect from it?
A: Yes, our 30-minute consultation is absolutely free! During this session, we'll discuss your financial goals and challenges, answer any questions you have, and provide initial guidance. It's an opportunity for you to get to know us and discover how we can assist you in achieving financial success.
Contact Information:
Contact us today to schedule your 30-minute free consultation appointment. Let TaxExpertsofOC.com be your partner in achieving financial success and security.

A Premier Full-Service Best CPA Firm