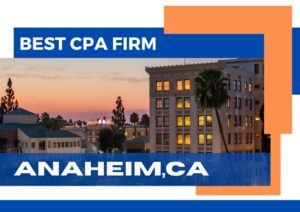 Are you searching for the best CPA firm in Anaheim, CA? Look no further than TaxExpertsOfOC.com!
With a reliable team of experienced professionals, we offer a broad coverage of high-quality services to meet your financial needs. Whether you require tax preparation, accounting, or assistance with IRS tax problems, we have the expertise you need.
Read on to discover why TaxExpertsOfOC.com is your top choice for all your financial needs.
Quality Services Offered
Tax Preparation:
 Our skilled CPAs and Enrolled Agents are experts in tax preparation, ensuring that you take advantage of every available deduction and credit while staying compliant with tax laws.
Tax Planning: 
We deliver comprehensive tax planning strategies to minimize your tax penalties and help you achieve your financial goals.
Accounting & Bookkeeping Services: 
Our team offers accurate and reliable accounting and bookkeeping services to keep your financial records organized and up to date.
Payroll Service: 
Simplify your payroll process with our payroll services, guaranteeing that your employees are paid accurately and on time.
Outsourced CFO & Controllership:
 Get access to the financial expertise of our CFOs and Controllers, without the expense of hiring full-time staff.
IRS Tax Problem & Resolution: 
With our former IRS Revenue Officer and Enrolled Agents on board, we specialize in resolving complex IRS tax problems and can negotiate on your behalf.
Business Incorporation: 
If you're starting a new business, our team can assist with business incorporation, helping you choose the right entity and navigate the legal requirements.
Employment Retention Tax Credit (ERTC): 
Our ERTC specialists can help you navigate the ERTC program and ensure you receive the maximum available credits.
Meet Our Reputable Team
CPAs: 
Our Certified Public Accountants bring a wealth of knowledge and expertise to every client engagement.
Former IRS Revenue Officer:
 From an ideological perspective, our former IRS Revenue Officer is well-equipped to handle IRS-related matters.
Enrolled Agents: 
Enrolled Agents are federally authorized tax practitioners with the highest level of expertise in taxation.
ERTC Specialists: 
Our specialists are well-versed in the intricacies of the Employment Retention Tax Credit program.
(FAQs)
Q1: Why should I choose TaxExpertsOfOC.com as my CPA firm? 
A1: We offer a team of highly skilled professionals, a wide range of services, and a commitment to providing personalized financial solutions tailored to your needs.
Q2: What sets TaxExpertsOfOC.com apart from other CPA firms in Anaheim, CA? 
A2: Our unique combination of expertise, including former IRS experience, ERTC specialization, and a dedicated team of professionals, sets us apart in the industry.
Q3: How can I contact TaxExpertsOfOC.com to discuss my financial needs? 
A3: You can reach out to us through our website, TaxExpertsOfOC.com, or contact us at:
When it comes to picking a CPA firm in Anaheim, CA, TaxExpertsOfOC.com stands out as the best choice. Contact us today to schedule your 30-Minutes free consultation appointment and experience our top-notch services and let us help you achieve your financial goals. Your satisfaction is our priority!

A Premier Full-Service Best CPA Firm